Are Jeep Wranglers Good for Road Trips?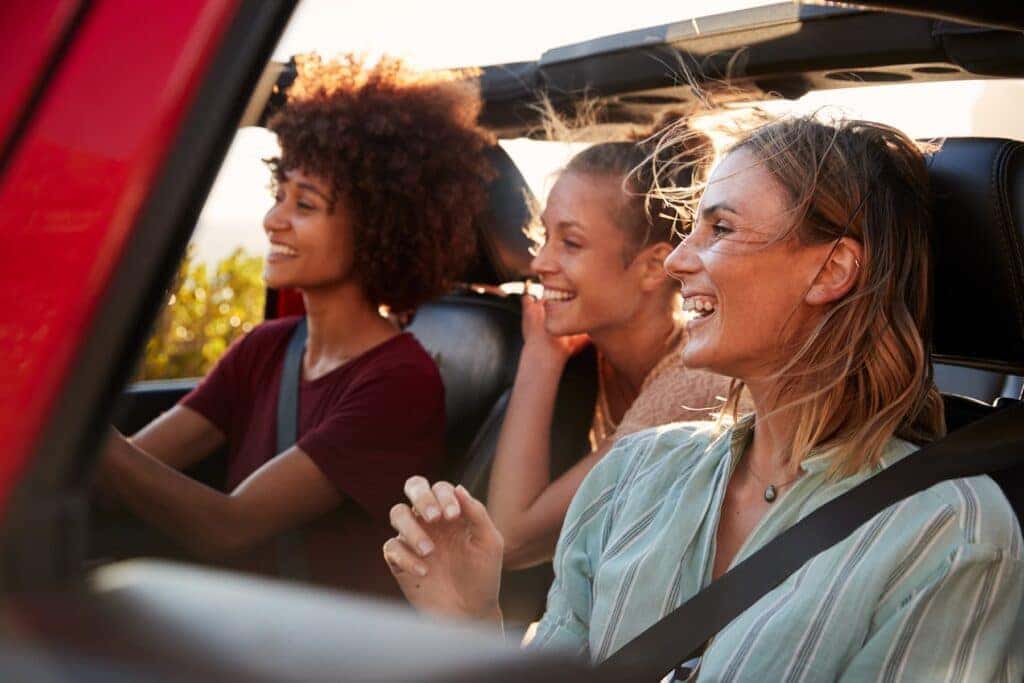 The Jeep Wrangler is unparalleled in performance when it comes to off-road adventures up mountains or across uncharted terrain. They're great for camping trips and grand adventures, but what about Jeep Wrangler high-speed driving? Can it handle the highways and provide a comfortable environment for long road trips?
Jeep Wranglers can provide good road trip experiences, but only if your plans are shaped around what a Wrangler is designed to do. Tate Branch Carlsbad can help you find the perfect Jeep for road-tripping, starting with a detailed look at the Jeep Wrangler's unlimited highway driving potential.
What Makes Wranglers Good Road Trip Vehicles?
Jeep Wranglers are great for off-road adventures. If you're headed into the mountains, down ravines, or want to traverse muddy, rocky trails, the Wrangler can do no wrong. They also perform relatively well on the open road. Wranglers are suited to some types of road trips, but not all.
Engine Options & Fuel Economy
Jeep Wranglers typically come with 3.6L Pentastar V6 engines with 285 hp, but you can choose 2.0L turbocharged ESS four-cylinder engines for greater towing power. Your two-door Jeep Wrangler usually achieves 20mpg for highway driving, and the four-door reaches 18mpg for highway driving, taking the middle ground while not the most fuel-efficient SUV on the road.
Gearing Up for Off-Road Adventures
Of course, the Wrangler is the perfect choice if you want to travel a reasonable distance to the nearest off-road trek. Agile for rock-crawling and superior suspension, you'll have a bouncy yet accomplished ride over the roughest trails. You may also notice a slightly rough highway ride because the suspension is designed more for climbing just about any kind of terrain.
Cargo Space: 2-Door & 4-Door
Don't overpack on a Jeep Wrangler road trip; cargo space can to be a bit limited, depending on your needs. Two-door cargo space is 2.8 cu ft behind the back seats, or 56.5 when folded down to accommodate camping gear for two. The four-door Wrangler offers a modest 3.1 cu ft of space, or 70.6 cu ft if you fold down the back seats. Many JL Wrangler owners simply opt for rooftop cargo to resolve storage shortages.
Removable Doors and Roof
One of the signatures of Jeep Wranglers is the removable roof. Whether you opt for the canvas top or the fold-away rigid panels, you can open up and enjoy a nice day on the road, providing a superior road trip experience for some.
Other Jeeps to Consider for Road Tripping
While the Jeep Wrangler is the dream road-tripping vehicle for some – especially adventurous parties of two with the back seats folded down – Jeep offers more spacious and highway-friendly models for road-tripping as well. Try your Jeep road trip in a more classic SUV design like the Jeep Grand Cherokee, its smaller shadow, the Compass, or the halfway point, the Jeep Renegade, for more back seat comfort, cargo space, and efficient mileage on the open road.
TEST DRIVE A NEW JEEP WRANGLER IN CARLSBAD TODAY!
If you love road trips, picking the right vehicle for the job is important. Nearby trips to rugged terrain suggest a Jeep Wrangler. But longer trips with more passengers might call for one of the more spacious Jeep models designed for efficiency both on and off the highway. But you don't have to decide right away. At Tate Branch Carlsbad, you can take a few different Jeep models for a test drive, check with your favorite road trip passengers, and discover the perfect Jeep for your road trip style. Explore our selection and contact us today to book your test drive.
Image Credit: Monkey Business Images, / Shutterstock