The Camping Experience with a RAM 1500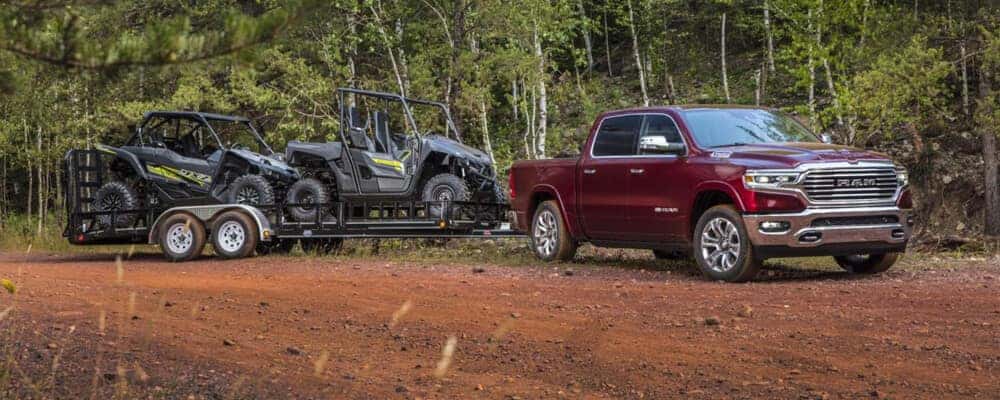 When it comes to camping trip vehicles, nothing beats a Ram 1500 with all the right gear. Completely elevate your New Mexico campsite by getting there with the best truck for New Mexico terrain. With features like truck bed tents and, of course, the suspension and tires needed to make it to the most beautiful, secluded spots, you can transform your camping plans into an off-the-grid weekend you will never forget.
At Tate Branch Carlsbad, we can help you pick the perfect RAM 1500 mods to ensure your camping plans reach new heights.
Must-have Camping Gear for RAM 1500
Camping is a favorite activity for many RAM owners. The superior off-roading capabilities mean you can explore new areas and discover the best-possible camping spots in New Mexico. With a few RAM 1500 mods, you can even go all-out with both off-road maneuverability and cool camping gear to take along. Camping and overland adventures have never been more fun than it is now with the right gear and a perfectly-modified RAM 1500.
Get to Any Campsite With the Best RAM Lift Kits & Leveling Kits for the RAM 1500
Why go camping in flat, easy-to-reach places? Why share your wilderness adventure with dozens of others when you don't have to? While less agile vehicles are limited to numbered campsites, a RAM 1500 with a suspension lift or leveling kit will give you the ground clearance to maneuver over rougher trails and routes than usual while keeping comfortable with every adventure. You can take your pick with Mopar kits available through dealership upgrades.
Get the Grip Needed for Your Favorite New Mexico Camping Spots
Replace your factory rubber with grippy all-terrain tires at the Tate Branch Carlsbad RAM service department. Tell us your favorite terrain, and we'll ensure that your new tires are the best option, whether you like crawling mountains or surfing sand dunes.
Sleep Under the Stars in Your Own "Bed"
Never sleep on the ground again while enjoying the furthest reaches of the wilderness. RAM bed tents and roof tents are easy to set up when building your camp. Choose from tent options that mount in the truck bed, extend from the truck bed, or climb above it all for a close-to-the-stars cozy nest on top of your RAM with overland-inspired options.
Getting in and Out; Made Easier
Make your camp setup and teardown easier (plus stops for snacks on the road) by making your lifted RAM 1500 more accessible. Explore RAM 1500 mods like running boards and bed steps so you and your campers don't struggle when getting in and out of the truck, ensuring the trip is easy and fun for the whole group.
Get Financing for a New RAM 1500!
There are several ways to finance your new RAM 1500 and any modifications to make it truly yours. Tate Branch Carlsbad offers easy financing options for qualified customers because we are passionate about making your vehicle purchasing decision as smooth and uplifting as possible.
Test Drive the New RAM 1500 in Carlsbad, NM, Today!
Discover your next camping vehicle with everything you need to set up the perfect campsite far off the beaten path. Tate Branch Carlsbad Dodge Chrysler Jeep Ram, will have you test-driving the latest RAM 1500 and picking out camping mods in no time.
Contact us today to learn more about your favorite RAM models and features, or visit our RAM dealership in Carlsbad, NM, to learn more about what RAM and RAM 1500 modifications can do for your camping trips.